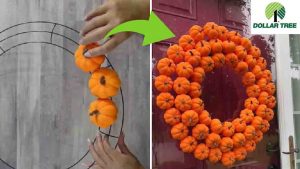 The Fall season is here; are your decors already in place? If you still lack a wreath for your front door, I recommend trying this DIY from @jaymuneediy on TikTok. This DIY is so inexpensive with the materials all found in Dollar Tree, and it's the perfect wreath to hang on your door this year (those little pumpkins just look so cute!) Fall is all about pumpkins and Fall foliage, so this will surely make your home feel cozy and warm. It's also a great weekend project to make with your friends or family. Watch the video tutorial below to learn the step by step instructions. Big thanks to @jaymuneediy for this lovely creation! Make sure to check her TikTok account for more DIY projects just like this.
Materials:
Directions:
TikTok user @jaymuneediy started off the project by cutting the twine connecting the mini pumpkins. Once done, she then proceeded to attach the clothespins to each back of the pumpkins using hot glue.
After this, she arranges the pumpkins by clipping them to the wreath form. For the outside part of the wreath, she glued the clothespin on the top part of the pumpkin so it8217;s easier to attach and arrange. (Take note that the pumpkins will initially be moving a lot on the wreath form, but once you fill it out, they will eventually stop moving.)
Now, all you need to do is to hang your DIY project on your front door! Isn8217;t this DIY Fall decor the cutest of all? I will definitely make this for my front door wreath this year; it looks perfect and unique, don8217;t you think? Thanks @jaymuneediy for this awesome DIY decor!
Dollar Tree DIY Mini Pumpkin Wreath Tutorial
The post Dollar Tree DIY Mini Pumpkin Wreath Tutorial appeared first on DIY Joy.
Original source: https://diyjoy.com/dollar-tree-diy-mini-pumpkin-wreath-tutorial/