You can never go wrong with a classic cookie but have you tried a lemon-flavored and lemon-filled version? It is so amazingly delicious and it also taste citrusy fresh! Unlike most cookies, this one is easier to eat because it has very soft and crumbly texture, and it also has the right balance of tanginess and sweetness. You should check out this recipe by How Tasty on YouTube and see for yourself, I8217;m sure you8217;ll love it.
Ingredients:
Directions:
In a medium-sized heat-proof bowl, add the sugar and cornstarch, then whisk them together to combine, add the egg, lemon juice, and lemon peel, and continue to mix them until well combined.
Place the bowl over a saucepan with boiling water, then let it cook for about 8 minutes or until it starts to thicken while whisking consistently. After 8 minutes, continue to whisk and cook for 2 more minutes until thickened, then turn off the heat, remove from the saucepan, and mix in the butter until incorporated.
Let it cool down for a bit, then cover with plastic wrap, and place it in the refrigerator to chill for at least 30 minutes. Spoon the lemon curd onto a small baking tray lined with parchment paper and into 10 equal dollops, then put it in the freezer, and allow it to set for at least 1 hour or until completely hard and frozen.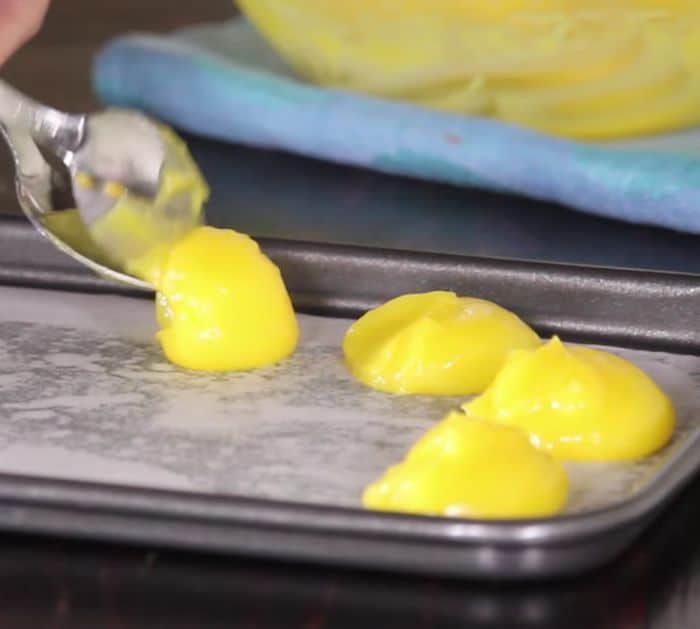 Step 2: Lemon Cookie Dough and Assembly
In a large mixing bowl, add the butter, sugar, lemon zest, and vanilla, then whisk them all together until smooth and combined, add the egg, and continue to mix them until incorporated. Sift together the flour, salt, and baking soda over the mixture, then gently fold them all together until well combined and it has a soft consistency.
Place it in the refrigerator, then let it chill for at least 20 minutes, once ready, scoop out the dough using a large 2-inch ice cream scooper, and flatten it in your palm. Place a frozen lemon curd filling in the center of the dough, then fold the edges over until the filling is covered, and roll it into a ball. Coat the cookieball in granulated white sugar, then plcae it on a baking sheet lined with parchment paper, and continue the same process with the rest.
Make sure to space them about 2 inches apart from each other. Place it in the preheated oven at 180°C or 350°F, then allow it to bake for about 8 to 9 minutes or until the center is very soft and the side are slightly golden. Once done baking, place the tray on the counter, hten allow the cookies to cool down onto the tray, and transfer them to a serving plate. Serve, and enjoy!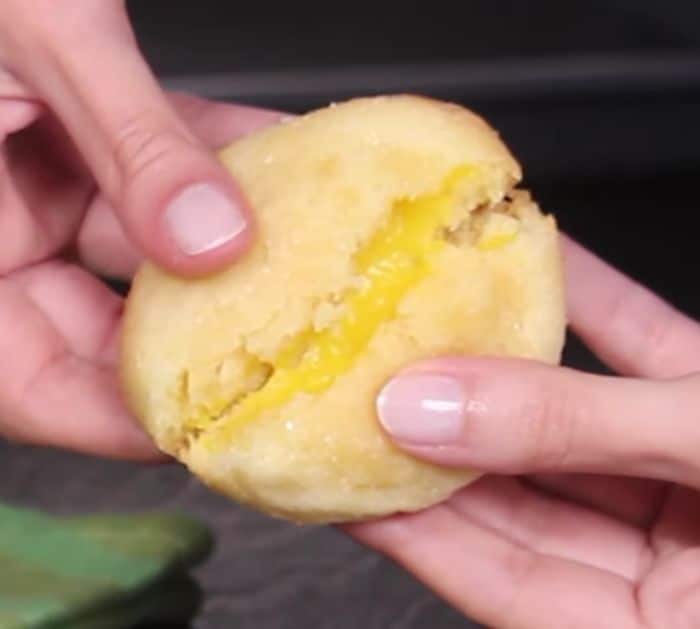 *All these images are credited to How Tasty via YouTube. Give her channel a visit and subscribe for more!
Easy, Soft, and Crumbly Stuffed Lemon Cookie Recipe
The post Easy, Soft, and Crumbly Stuffed Lemon Cookie Recipe appeared first on DIY Joy.
Original source: https://diyjoy.com/easy-soft-stuffed-lemon-cookie-recipe/