Donuts are absolutely delicious and I can eat them any time of the day, I always buy them from my favorite cafe every chance I get, and I always share them with my family because they love it as much as I do. We consume a lot of donuts very often which is why I thought why not just try to make it at home? This way, we can have them available any time, cooked fresh, more inexpensive than store-bought, and definitely more delicious because we can put any amount of filling or flavor that we want. For this yummy snack, I used this amazing recipe by 매일맛나 delicious day on YouTube and it has become my favorite ever since.
Ingredients:
Directions:
Place a saucepan on a stove, then add the milk and cornstarch to the saucepan, and whisk them together until combined. Add the chocolate chips, then turn the heat to low, and let the mixture cook until thickened while stirring consistently. Once thickened, stir it quickly, then turn off the heat when it becomes lumpy, taste it, and add sugar if you want it to be sweeter. Quickly transfer it to a mixing bowl, then place it in the refrigerator, and allow it to chill until cooled completely.
Once chilled, beat the chocolate filling gently with a hand mixer, then transfer it to a piping bag, and set it aside. In a separate bowl, add the warm milk, sugar, and instant dry yeast, then stir them all together until dissolved, add the egg, and continue to mix until incorporated. Add the bread flour and salt, then coat the salt with flour first before you proceed to fold them all together until well combined, and then knead the dough with your hands. Add the butter, then continue to knead, and tear up the dough, stretch, and slap until smooth.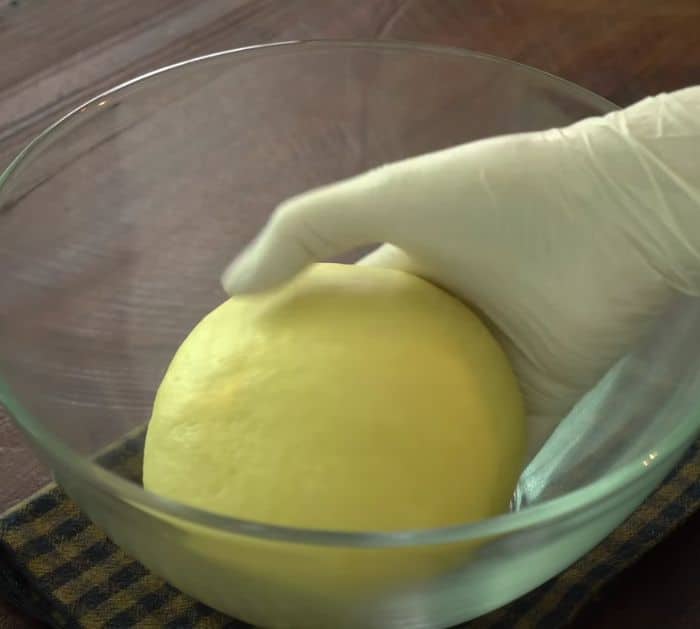 Shape it into a smooth ball, then cover the bowl, and set it aside to rise for about 1 hour or until double in size. After an hour, degas the dough, then transfer it to your work surface, and knead it again. Cut the dough into 10 equal pieces, then degas and shape each into a ball, and make sure to pinch the seams close before rolling it into a smooth ball. Place the dough ball in a small piece of parchment paper, then press it to flatten the dough lightly, and place them on a baking sheet.
Cover them with plastic wrap, then allow them to rise for about 30 minutes or until double in size, and then start frying them over low heat in batches to not overcrowd the pan. Once one side is nice and brown, turn it over to cook the other side, then once cooked evenly, remove them with a slotted spoon, and transfer them to a rack with a tray underneath to catch all of the excess oil drippings. Let the donuts cool down, then punch a hole in the side, coat them with sugar, and pipe the chocolate filling inside. Serve and enjoy!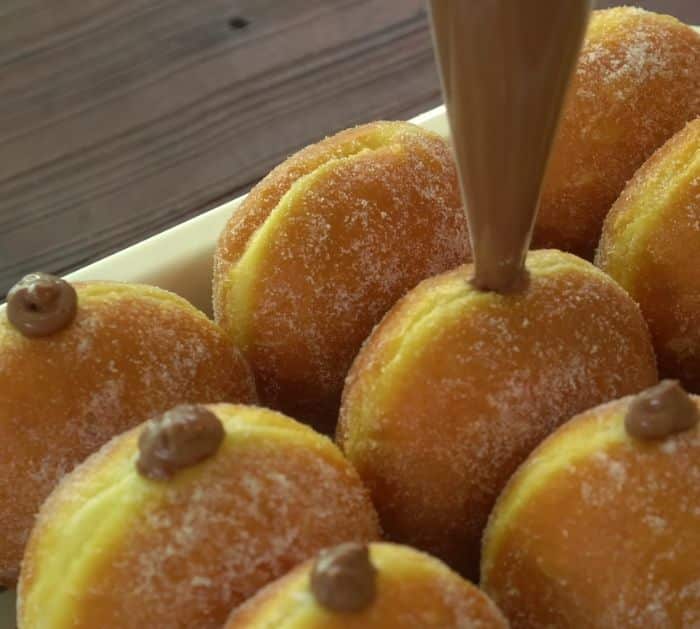 *All image credit belongs to 매일맛나 delicious day via YouTube. Follow and subscribe to her channel for more!
Easy & Fluffy Fried Donuts with Chocolate Cream Recipe
The post Easy 038; Fluffy Fried Donuts with Chocolate Cream Recipe appeared first on DIY Joy.
Original source: https://diyjoy.com/easy-fluffy-fried-donuts-with-chocolate-cream-recipe/