This yummy dessert recipe by HidaMari Cooking is made up of fruity, citrusy, and creamy layers that are irresistible, refreshing, and truly delightful! You can serve this to your guests on special occasions or whenever you8217;re craving it, surely both kids and adults alike will enjoy this cake, especially during the hot season. At first glance, you8217;d think that this is pretty difficult to prepare, but it is actually simple to make, and the presentation is just perfect! Learn how now by reading the written instructions down below and watching the video tutorial on YouTube as well.
Ingredients:
Directions:
Place the cookies in a Ziploc bag, then crush them until fine crumbs, add the melted butter, and give them a good mix until well combined. Pour the crushed cookie mixture on a springform pan lined with parchment paper, then spread and press it at the bottom evenly, and place it in the refrigerator to set while preparing the rest of the ingredients. In a large mixing bowl, add the cream cheese, then beat it until smooth, add the gelatin powder to the water, and allow it to soften while stirring over a bowl of hot water before adding it to the mixture. In a separate mixing bowl, beat the cream and sugar until loose, then add them to the mixture followed by the juice of a freshly squeezed orange, and mix them well to combine. Pour it over the chilled cookie crust, then put it back in the fridge, and allow it to set for about 1 hour.
Scoop 2 tablespoons of orange juice, then add it to the powdered gelatin and allow them to fluff before dissolving it by stirring it over hot water. Add it back into the orange juice, then give them a good mix until incorporated and uniform, and then pour this mixture over the chilled and set rare cheesecake. Place it back in the fridge to chill and set for 1 more hour.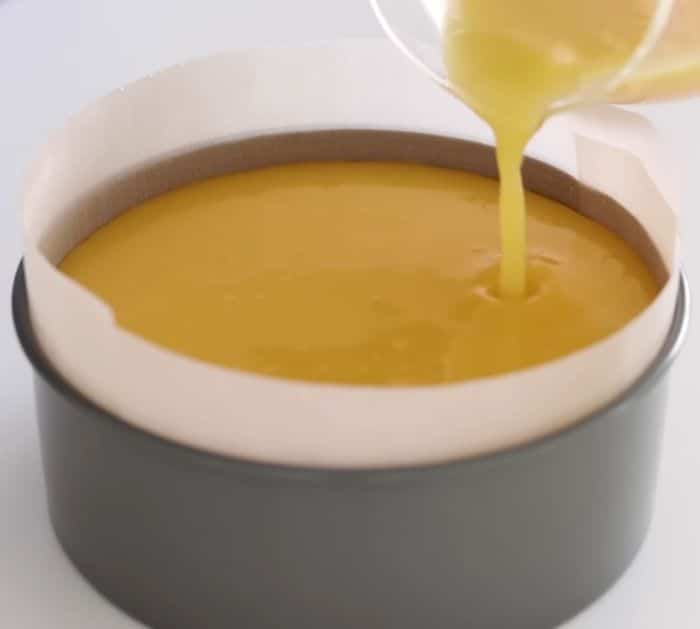 Sprinkle the gelatin powder in 3 tablespoons of water and allow it to soften, then place a saucepan on a stove over medium-high heat, and add the sugar, water, and lemon juice. Allow it to heat up until the sugar has dissolved, then add the orange slices, and heat them up while stirring occasionally. Once the mixture starts to boil, remove the orange slices, and allow them to cool down, then when the mixture has reached a temperature of 50°C to 60°C, add the blanched gelatin, and stir them together until dissolved and incorporated. Place it over a bowl of ice water, then allow it to cool down to about 20°C, and start assembling the cake as shown in the video. Place the cake in the fridge, then allow it to chill and set for at least 10 minutes, and once hardened, pour the remaining jelly over the top. Put it back in the fridge to chill and set for at least 5 hours, then serve, and enjoy!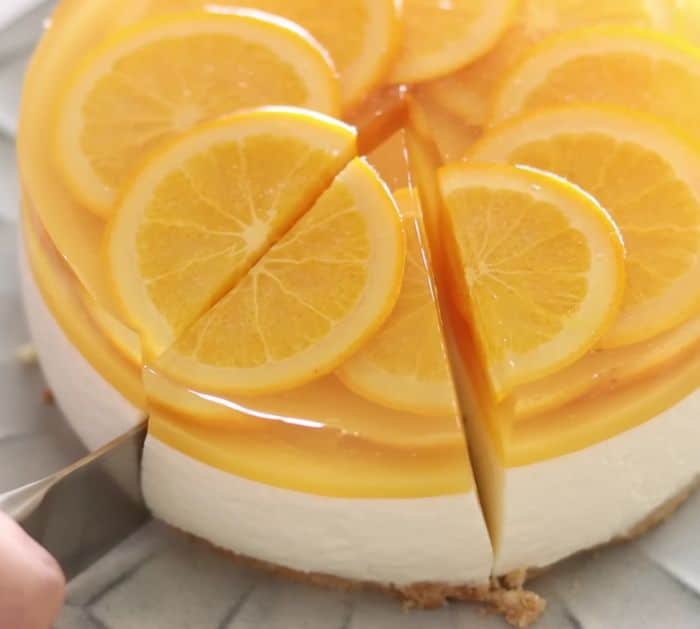 *All image credit belongs to HidaMari Cooking via YouTube. Follow and subscribe to her channel for more!
Easy No-Bake Orange Cheesecake Recipe
The post Easy No-Bake Orange Cheesecake Recipe appeared first on DIY Joy.
Original source: https://diyjoy.com/easy-no-bake-orange-cheesecake-recipe/