This recipe by The Culinary Fanatic on YouTube is by far one the best pot roast versions ever! I have tried a lot of ways to cook pot roast but nothing comes close to how flavorful, tender, and yummy this one is. You can serve this on special occasions, parties, holidays, or even on an ordinary family mealtime, whatever is it, one thing is for sure, you8217;ll love this pot roast so much that you would want to eat it every day. Check out the video tutorial, then give it a try, and see it for yourself.
Ingredients:
Directions:
Chop all of the veggies as desired or as shown in the video, then place them in a large bowl or container, and then roughly chop 6 to 7 cloves of garlic and set them aside. In a large Dutch oven, layer some of the onions at the bottom, then add the remaining onions to the bowl of veggies, and drizzle some oil all over them. Season them with salt, pepper, granulated garlic, and granulated onion to taste along with a little bit of oregano, then carefully mix them all together until well seasoned and coated.
Place a large cast-iron skillet pan on a stove over medium-high heat, then heat up some oil, and add the roast. Allow the roast to sear on all sides nicely and evenly, then transfer the roast to the Dutch oven lined with onion, and season them with some more black pepper, salt, granulated garlic, granulated onion, and oregano to taste. Add some chopped garlic all over the sides and the top as well, and then place the seasoned veggies all around the sides.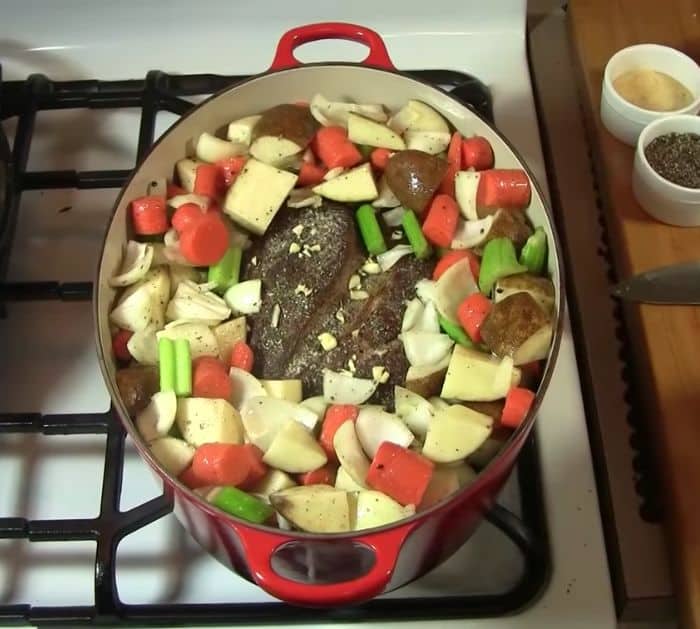 In a separate large mixing bowl, add 2 to 3 cups of cabernet, 3 to 4 tablespoons of beef base, and 1 cup of water, then whisk them all together until well combined, and then add the black pepper and remaining chopped garlic making sure to whisk well in between each addition until combined. Pour it over the roast, then place the fresh rosemary around the top, and place a few cuts of butter at the center. Cover the Dutch oven with the lid, then place it in a preheated oven at 250 degrees, and allow the roast to cook for about 5 hours until fork tender.
Once done cooking, transfer the roast to a serving bowl, then place the veggies in a skillet pan, and broil it in the oven for a while until nicely browned and charred. Bring the sauce in the Dutch oven to a boil, then add a mixture of ¾ cup of water and 3 tablespoons of cornstarch, and give them a good stir until incorporated. Once the sauce has thickened, turn off the heat, then cut the roast, and serve it along with the veggies and the sauce.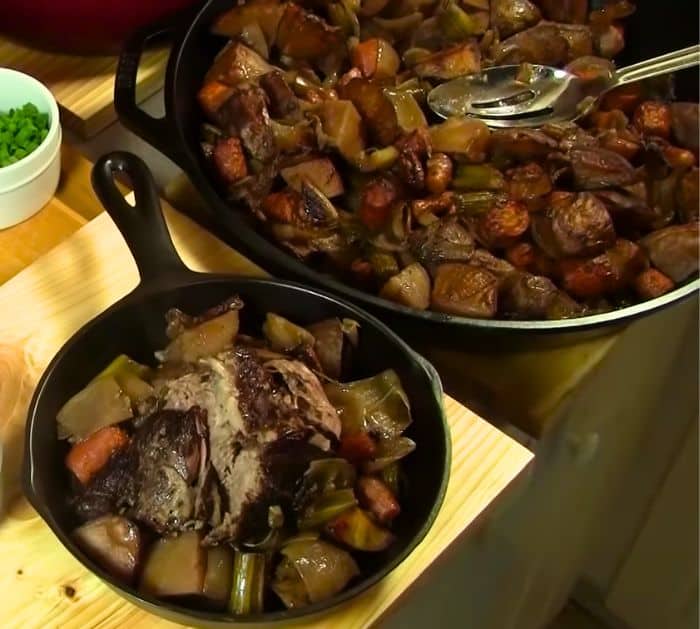 *All image credit belongs to The Culinary Fanatic via YouTube. Follow and subscribe to his channel for more!
Easy Slow-Cooked Beef Pot Roast Recipe
The post Easy Slow-Cooked Beef Pot Roast Recipe appeared first on DIY Joy.
Original source: https://diyjoy.com/easy-slow-cooked-beef-pot-roast-recipe/