I8217;ve tasted a lot of sausage rolls before but nothing like this recipe by Food Wishes on YouTube! I have tried making this three times now and they come out perfectly delicious every time, and they are pretty easy to prepare, too. I guarantee you that even if you8217;re not that skilled in cooking, you can make this perfect on the first try, all you have to do is follow the easy step-by-step instructions, and while you8217;re at it watch the video tutorial as well.
Ingredients:
Directions:
In a large mixing bowl, add the ground pork, onions, garlic, sage, bread crumbs, salt, pepper, coriander, thyme, cayenne pepper, and nutmeg, then mix them all together until incorporated and combined, and divide the mixture into two portions putting each half in plastic wrap. Shape each mixture into a cylinder the same length as the puff pastry, then roll it up in the plastic to form it into a roll, and refrigerate until ready to use.
Whisk together the water and egg, then separate the puff pastry into thirds, and halve one of the thirds lengthwise. Allow the pastry to come to room temperature, then brush egg wash along one long edge of the 2 larger pastries and place the narrower pastries on the egg wash strip overlapping about 1 inch as shown in the video, and then transfer 2 sheets of dough to a lightly floured parchment paper. Dust the top with more flour, then cover with another piece of parchment, and gently roll until evenly thick.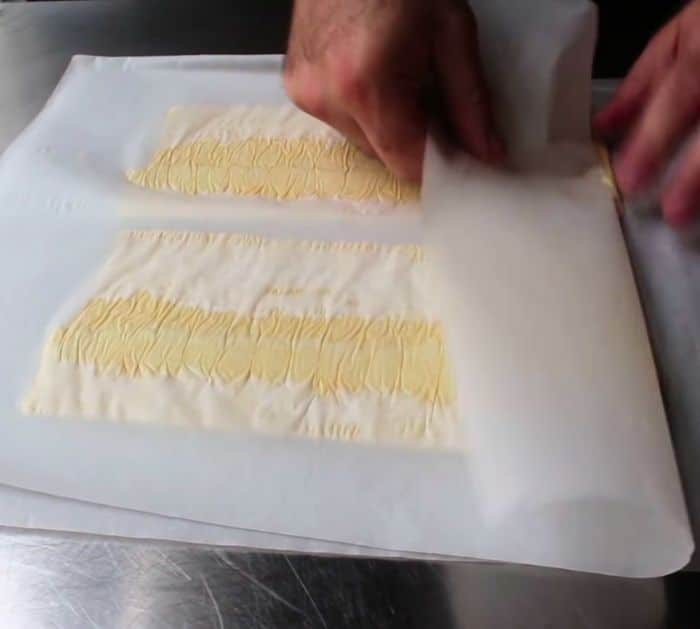 Remove the parchment at the top, then flatten the long edges of the dough slightly, then place a sausage log at the end of the pastry sheet, and start rolling it over. Brush some egg wash on the far edge of the sheet, then seal the edges together, and place them on a dish lined with parchment paper with their seam side down. Repeat this process with the rest of the ingredients, then freeze them for about 10 minutes or until firm.
After a few minutes, transfer the rolls to a lightly floured surface, then lightly brush the top and sides with egg wash, and cut each roll into 8 pieces. Sprinkle some sesame seeds on top, then place them on a baking sheet lined with a silicone mat with their seam side down, and lightly press each roll to flatten them. Place them in a preheated oven, then allow them to bake at 375°F or 190°C for about 30 minutes or until browned and cooked through.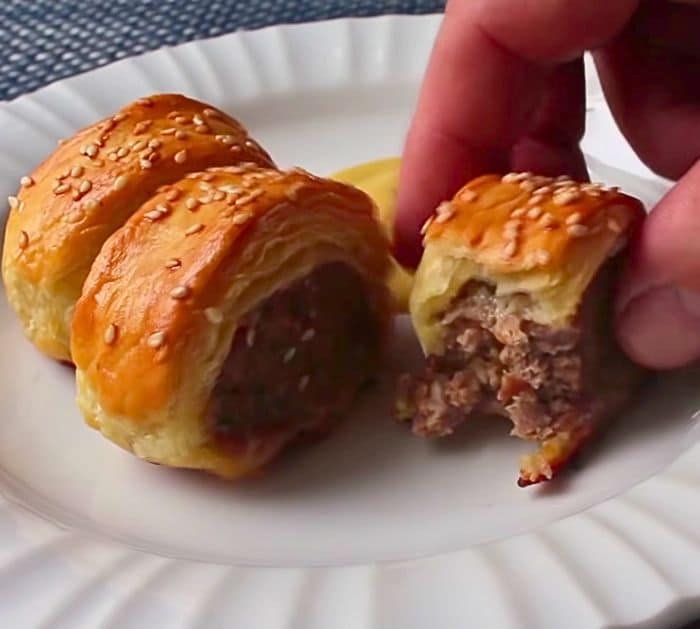 *All image credit belongs to Food Wishes via YouTube. Follow and subscribe to her channel for more!
Super Easy Sausage Rolls Recipe
The post Super Easy Sausage Rolls Recipe appeared first on DIY Joy.
Original source: https://diyjoy.com/super-easy-sausage-rolls-recipe/