When it comes to making baked potatoes for my family, I always make sure that I serve only the best and most delicious version they could ever have, and when I say best, I mean just like this recipe by Whip It Up With Jay on YouTube! When you serve this on the table, expect it to be gone in just a few minutes because this dish is so yummy that you just can8217;t have enough. If you want to give this recipe a try, then go ahead and read the instructions down below, and watch the video tutorial while you8217;re at it.
Ingredients:
Directions:
Preheat your oven to 400°F and prepare a baking pan. Poke holes all over the potatoes using a fork, then drizzle some oil all over them massaging them well until coated, and sprinkle some salt all over them. Cover the potatoes nicely with foil, then place them in a baking pan, and bake them in the preheated oven for about 1 hour or until fork tender (the larger the potato, the longer it will need to cook). Peel off the skin of the shrimps and devein them, then place them in a large bowl, and drizzle some oil.
Give them a good massage or toss them to coat, then season them with complete seasoning along with your favorite seasoning brand, and toss until well coated. Place a pan on a stove over medium-high heat, then drizzle some oil, and allow it to heat up before placing the seasoned shrimp. Toss them from time to time and let them cook for about 4 to 5 minutes making sure both sides are seared well.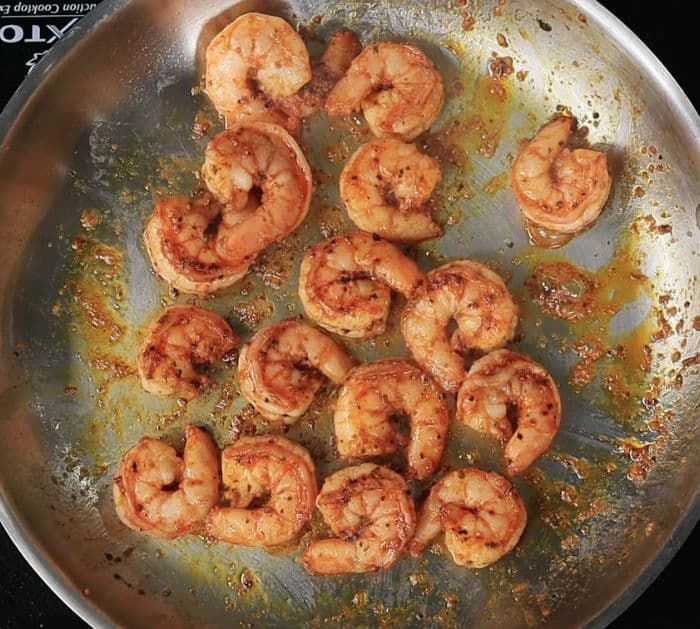 Remove the shrimp once done cooking, then in the same pan, add the butter, and allow it to melt before adding the diced onions and bell peppers. Give them a good toss and saute for about 4 minutes until softened. Pour the heavy cream, then turn the heat to medium, and give them a good stir while adding the complete seasoning and creole seasoning. Give them a good mix, then add the parmesan cheese and Colby Jack cheese, and stir them together until melted. Turn off the heat and remove the sauce from the stove, then set it aside.
Slice the top of the potatoes off as shown in the video, and scrape off the inside transferring them to a large bowl. Sprinkle some salt and pepper into the bowl filled with mashed potatoes, then add the cheese and some of the cream sauce, and mix them until combined. Fill the potatoes evenly with the mixture, then sprinkle some more cheese on top, and place the shrimp stuffing them on top nicely. Pour more sauce on top, then put them back into the baking dish, and bake them in the oven for about 10 more minutes. Serve and enjoy!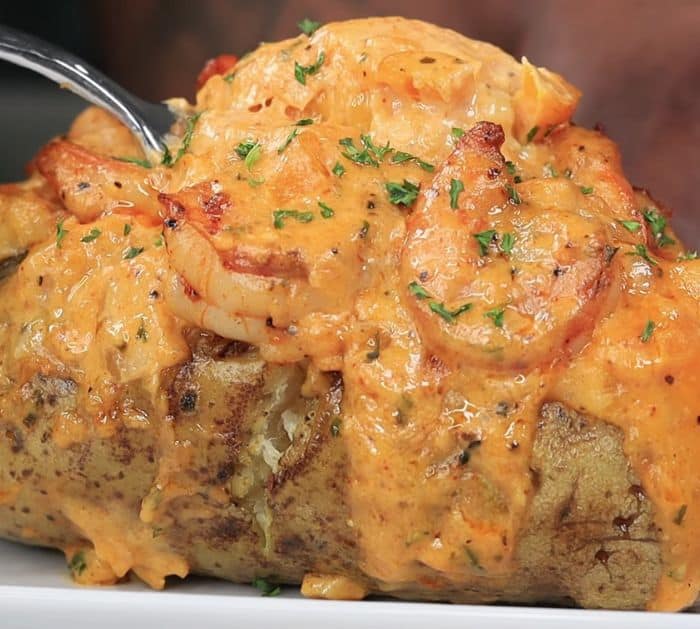 *All image credit belongs to Whip It Up With Jay via YouTube. Follow and subscribe to his channel for more!
Easy Loaded Creamy Shrimp Baked Potato Recipe
The post Easy Loaded Creamy Shrimp Baked Potato Recipe appeared first on DIY Joy.
Original source: https://diyjoy.com/easy-loaded-creamy-shrimp-baked-potato-recipe/