Need a quick dessert recipe for unexpected guests? Try this no-oven strawberry tiramisu by HidaMari Cooking that8217;s ready in 10 minutes! I had no words when I first tried this 8211; every scoop was just heavenly. It had the perfect balance of sweetness and creaminess because of the strawberries and mascarpone. You can never go wrong with this easy and delicious recipe. Read on or watch the video below for full instructions.
Ingredients:
Instructions:
Step 1:
Thoroughly wash the strawberries, remove the stems, then cut them in half lengthwise. Place the strawberries, 2 1/2 tablespoons of sugar, and 2 teaspoons of lemon juice in a saucepan. Mix everything well.
Step 2:
Place it over medium heat and cook until strawberries are tender. Once done, remove the saucepan from the heat and allow it to cool.
Step 3:
Place a mixing bowl on a bowl or container with ice and water. Combine 1 cup of cream, 1 2/3 tablespoons of sugar, 1 tablespoon of condensed milk, and 1 teaspoon of vanilla extract in a mixing bowl until it becomes thick and smooth.
Step 4:
Add about 1 cup of mascarpone cheese into the mixture and mix well.
Step 5:
Add the strawberries from step 2 but do not add the juices. Stir until well combined.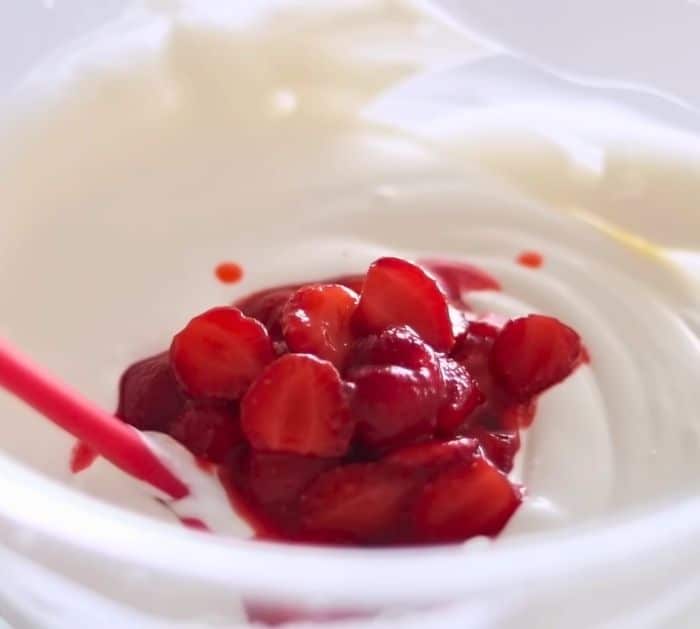 Step 6:
Lay the cookies on the bottom of the container of your choice and pour the strawberry juices. Decorate the sides with the strawberries cut in half.
Step 7:
Transfer the mascarpone mixture into the container then flatten the top.
Step 8:
In a small bowl, combine powdered sugar and strawberry powder. Dust the powder mixture onto the tiramisu. Garnish with more strawberry slices on top.
Strawberry Tiramisu in 10 Minutes
The post Strawberry Tiramisu in 10 Minutes appeared first on DIY Joy.
Original source: https://diyjoy.com/strawberry-tiramisu-recipe/