Ever wonder why one-pot recipes are popular? It8217;s because there are days that people are too lazy to cook but still want to eat good food. So if you also love one-pot recipes, then I8217;m sure you will fall in love with this one-pot cheesy chicken pasta recipe from Flavour It Fancy on Youtube. It8217;s a straightforward recipe that offers a flavor-packed dish that surely you would always want to cook. Make this today by following the recipe below.
Ingredients:
Directions:
Step 1
First, make the tomato puree. Make shallow cuts to the tomatoes and put them into a pot with water and 1 tsp salt. Let it boil. After this, remove the skin of the tomatoes, cut them into pieces, and put them into a blender jar. Blend it, then set it aside. In a pan, put 2 tbsp of oil, then add the boneless chicken. Season with some salt and black pepper. Do not overdo the chicken, just cook it for a few minutes until it slightly changes color. Next, add 1 finely chopped medium-sized onion and 4 8211; 5 finely chopped cloves of garlic. Saute for a few minutes. After a few minutes, add the tomato puree followed by 2 cups of water, and 1 tsp oregano. Mix it well. Next, add 3 slices of processed cheese. Mix it well, then add the 3 1/2 cups of medium-cut penne. Season with salt.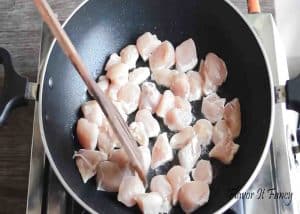 Step 2
Cover the pan and let it simmer for 15 minutes until the pasta is fully cooked. After 15 minutes, add 1 tsp of chili flakes followed by some grated mozzarella cheese. Mix it well. After a good mix, add the rest of the cheese and cover it up. Cook it on low heat until the cheese is completely melted.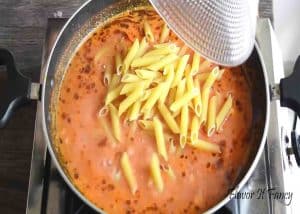 One-Pot Cheesy Chicken Pasta Recipe
The post One-Pot Cheesy Chicken Pasta Recipe appeared first on DIY Joy.
Original source: https://diyjoy.com/one-pot-cheesy-chicken-pasta-recipe/