How great is this DIY home decor idea? I love the look of roman shades so much more than blinds or curtains. I truly thought I could not afford them and sat wishing away to someday have the money to buy custom shades for my bedroom door I look at every day. Then, I came across a tutorial for making one and decided not only to make one but to shoot a video of the one I made next for my kitchen. No matter what size window or doot you want to add a Roman shade to, you can do this yourself, I promise. I was not gifted with any amazing sewing skills, and this project only requires some fabric glue and accurate measuring. Watch the video to see how easy it is, then go get a blind cut to the size of your window or door, plus the fabric you choose and you will be in business.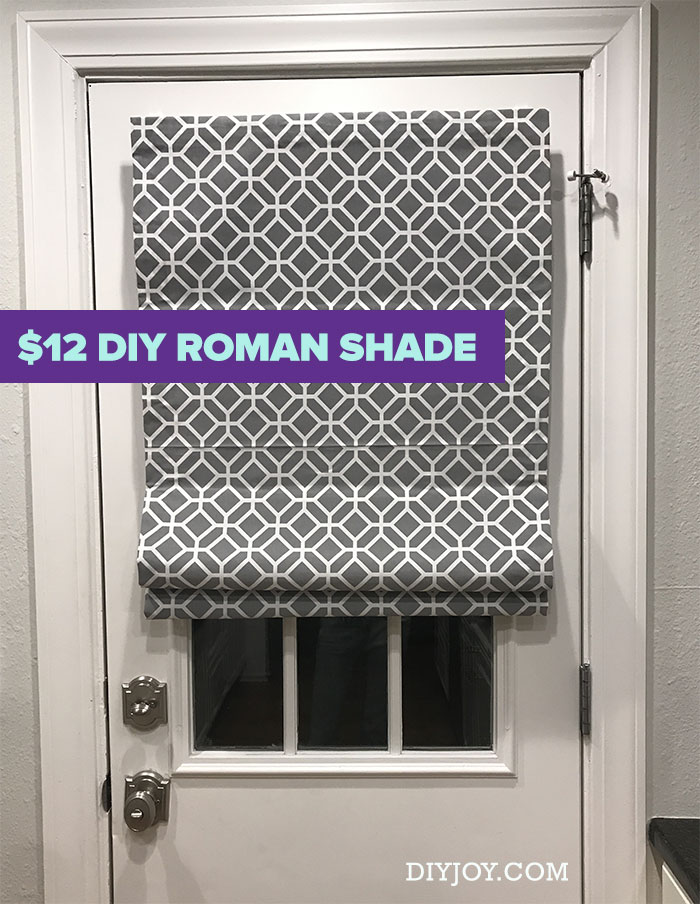 Supplies Needed for Homemade DIY Window Shades:
Fabric (see measuring notes below and in video)
Mini blind that covers window (we use cordless here and recommend that)
2 large buttons (these need not match, they are just used in assembly)
How to Make Roman Shade
Get a mini blind the same size as your window, you can go one inch out if needed.
Measure fabric with blind extended over the fabric. You will need enough extra fabric to have a 3 inch allowance on all sides of the mini blind.
Mark fabric allowing 3" overhang around all edges (3" at top, 3" at bottom, 3" on each side)
Iron a crease all the way around on your fabric.
Place fabric glue inside all creases and smooth down, let dry.
Place blind back on the fabric and extend.
Remove pull cord from blind by dislodging pegs at bottom of the mini blind rod.
Hold tightly and pull the cords out of the blind.
Tie 2 buttons on pull cords to stop the cords from reeling back in.
Cut and remove all ladder cord from the miniblind.
Take away all blind slats.
Place all blind pieces on fabric (top rod, 3 slats, and bottom rod).
Measuring the blind slat placement evenly across your fabric.
Glue all the blind pieces to the fabric with fabric glue and let dry.
Remove buttons and run your pull cord through the 3 slats and secure on the bottom bar replacing pegs and tying securely.
Let dry completely and hang blind.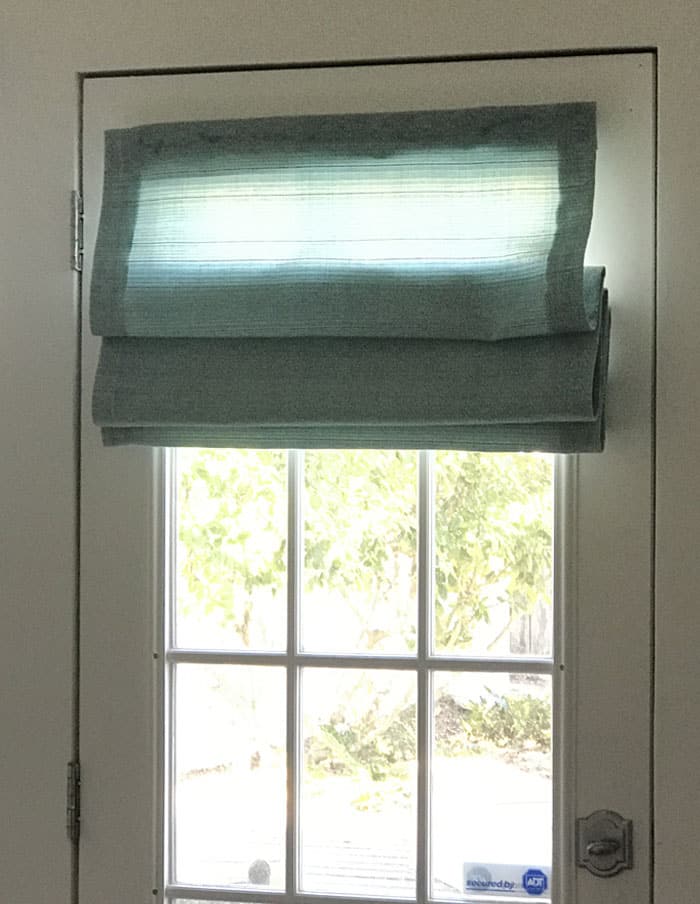 I8217;ve made two of these so far, one for my bedroom door and another super cute roman shade for my kitchen window. I just love how easy it was to make, plus I got to pick out matching fabrics for both. Everyone who sees this is super impressed, but none so much as me. I love that I was able to make home decor that fits my budget and it looks truly amazing.
The post $12 DIY Roman Shade Made From Mini Blinds appeared first on DIY Joy.
Original source: https://diyjoy.com/diy-roman-shades/